The Quick Recovery Test (QRT) is a three-minute test that helps to evaluate an athlete's readiness before training/practice. You can now use the Firstbeat Sports Live app* (Live app) to conduct Quick Recovery Tests using the Firstbeat Sports Sensor (Sports Sensor). It is possible to conduct tests for the whole team at the same time or an individual athlete can use their mobile device to perform the test on their own.
*Coach access to Live app available on iOS devices. Athlete access available on iOS and Android devices.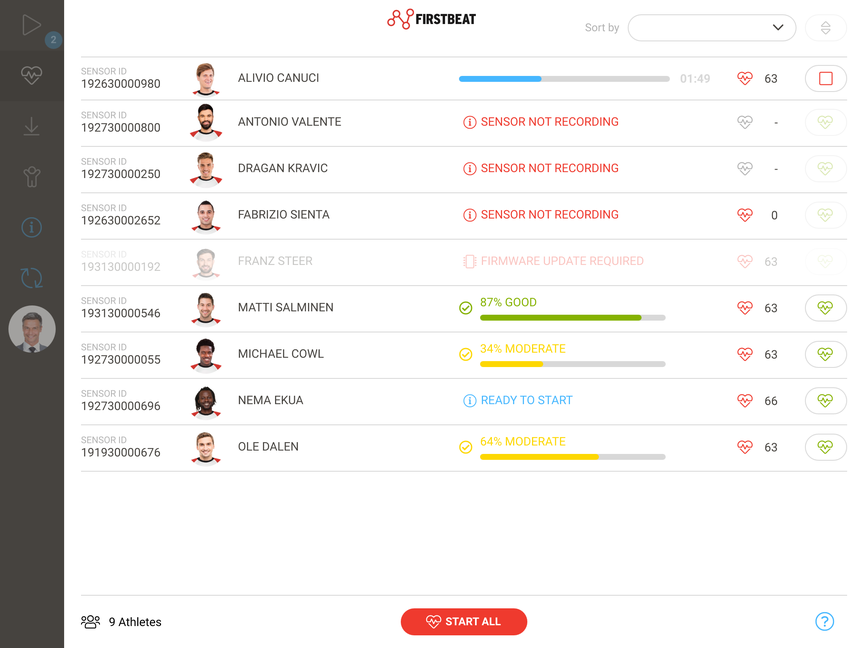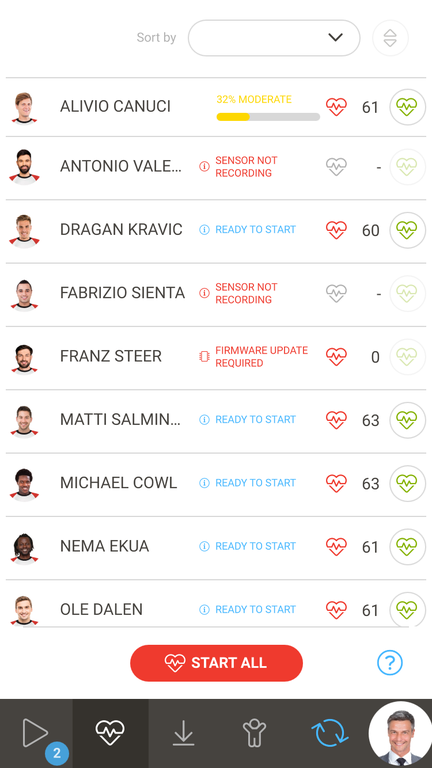 Prerequisites
The Quick Recovery Test feature is available for all athlete logins. This means individual athletes logged in to the Live app can perform a QRT. Quick Recovery Test for coaches using the Live app (for team context QRT's) is available for Firstbeat Sports Premium and Premium+ users only.

Firstbeat Sports Sensor Firmware v2.0 or newer must be installed to conduct Quick Recovery Tests using the Live app. The Live app will notify you if you need to update your Sensors or if firmware updates are available. Sensor update instructions are available here.

Please always remember to update to the latest version of the Live app to get all the latest features and improvements.
Setting Things up for Successful Measurements
Standardized testing routines ensure reliable test results.
For example, teams will often conduct the Quick Recovery Test in the locker room just before team practice. For individual athletes, a Quick Recovery Test is often part of the morning routine.

Please take care when preparing your HR straps. Make sure to dampen skin and add moisture to the HR strap and make sure it is worn snug to the body. Wearing the HR Strap and Sensor properly is important for getting good quality data.
As a coach, please monitor data quality during the test. This helps you to spot if there are any problems with data quality and fix possible problems early. If the test indicates poor data quality often, or for a long time, during the test please check the HR strap is attached correctly. Stop and restart the test if necessary.

The first test is to acquire a baseline. The second test shows the results
The Quick Recovery Test needs a historic baseline to analyze future results. If an athlete has no previous QRT history the app will conduct an initial test first but not display the result in the Live app. Subsequent QRT will show a result immediately after a test is successfully completed and results are synced to the Sports Cloud. The reason for this is the automatic individualization of results. QRT scores are adaptively scaled based on an athlete's personal measurement history.
When it is the first Quick Recovery Test, an Initial Score Saved message is displayed.

User is notified if there is baseline information for the athlete that needs to be updated to the Sensor before a QRT can start. In this case, please click the blue update icon to update the Sensor profile.

Performing the Test
Performing a Quick Recovery Test is simple. Once an athlete is wearing a Firstbeat Sports Sensor and the Sensor is recording, you're ready to start. Follows these steps to do so:
Step 1: Select The Quick Recovery View from within the Live app

Step 2: QRT is ready to begin when the blue "Ready to Start" text appears next to an athlete's name/Sensor.

Step 3: It is possible to start QRT for all athletes simultaneously (a), or one by one (b).
a) Select "Start All" to start QRT for all athletes. If the QRT is already in progress for some athletes, selecting "Start All" does not restart the test for them.

b) Press the green heart icon to start QRT for an individual athlete. 

Step 4: Starting a QRT starts a five-second timer. When the timer reaches zero, the three-minute measurement starts. The progress bar and timer show the time remaining.

Step 5: It is possible to stop the test by pressing the red stop button. If you stop a test, you must restart it from the beginning. You can also redo a completed test. 

Step 6: The QRT result is visible in the Live app immediately after the test is completed. Color-coded feedback is provided in the Live app. An "Initial score saved" notification is displayed if it was a first-time QRT measurement for an athlete.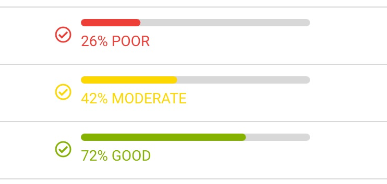 QRT results give you immediate on-screen feedback on athlete readiness for more informed coaching decisions and training plan validation.
There are four categories for the results:
0-30 - Poor: Recommended to conduct an Overnight Recovery Test to confirm the athlete's recovery status, and to make adjustments to their training program.

30-70 - Moderate: For moderate results, also check historic recovery progress data in the Firstbeat Sports Cloud. Athletes with decreasing recovery trends should be observed.

70-90 - Good: Training. Can continue as normal.

90-100 - Excellent: Training can continue as normal.
When interpreting recovery results, it is more important to observe trends than individual results.
Syncing Results to Cloud
The Quick Recovery Test result is shown immediately in the Live app.
However, Quick Recovery Test results are not automatically available in the Sports Cloud after a test is completed. To make QRT results visible in the Firstbeat Sports Cloud, data needs to be downloaded from the Sensor and synced to Cloud.
Details
It is possible to perform the QRT again within a short time frame. In case there are two results for the same day, the better (higher QRT score) is shown in the Firstbeat Sports Cloud.

The Quick Recovery Test result is calculated instantly by the Firstbeat Sports Sensor. The calculation is based on the history data stored in the Firstbeat Sports Cloud. For this reason, athlete profile history data (including possible previous QRT results) and latest QRT results are synced between the Sports Cloud and Live app.

If your Live app is offline for a long time, syncing and scaling of QRT results is not possible. This is not a problem if there are no other devices (iPhones or iPad) conducting QRTs at the same time. When there are, QRT results history might change slightly when data is synced. In most cases, changes are minor.
Video how to perform the Quick Recovery Test
Questions?
In case you have any questions, please contact support@firstbeat.com. We are happy to support you and your athletes to get started and answer any questions that you might have.